Back
Shopify vs. Webflow: Shopify the Right E-Commerce Platform for Your Business
Written by: Hinal Ranpariya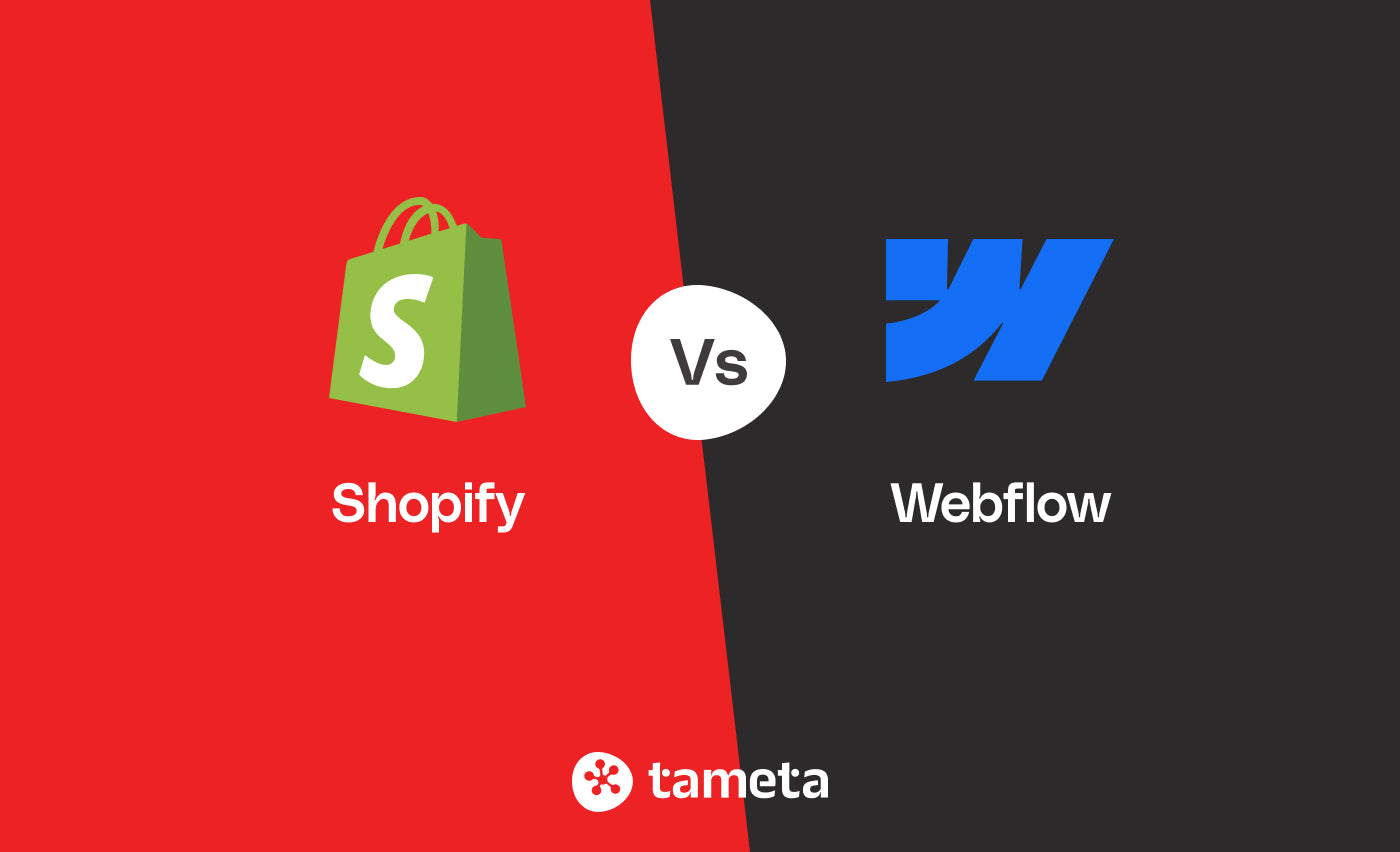 The choice of platform to run your online business is crucial in the ever-changing world of e-commerce. Shopify and Webflow are two well-known competitors in this market, each with special advantages and traits of its own. Tameta Tech, For your eCommerce store, it's essential to ensure a smooth customer journey, from the initial interaction to the final payment and even beyond in terms of customer service.
E-commerce Update
| | |
| --- | --- |
| Year | Sales Revenue |
| 2018 (Past of E-commerce) | $513.6 billion |
| 2023 (Present of E-commerce) | $6.3 trillion |
| 2025 (Future of E-commerce) | $7.3 trillion |
Many people are pursuing online retail as a result of the huge success of eCommerce. But with so many options, it can be difficult to know where to begin. Notable examples of the most popular eCommerce platforms are Shopify and Webflow.
Shopify: The E-Commerce Powerhouse
Shopify has established itself as a dominant force in the e-commerce space by providing a wide range of features and functionalities. Shopify takes great satisfaction in providing an exceptionally user-friendly interface. Without any technological knowledge, you can build an online shop that is fully operational using an easy drag-and-drop builder.

Pricing: Shopify has a range of price points to accommodate companies of all sizes.
Basic Shopify

:$29 a month

Shopify: $79 a month
Advanced Shopify:$299 per month
Features
Shopify's user-friendly interface makes it simple for users to set up their online business.

To improve functionality, the platform provides access to a sizable library of plugins and add-ons

Shopify manages hosting, guaranteeing a safe and functional website.

Customers can choose from a variety of payment gateway integrations, providing flexibility.

Features and tools to make your store search engine friendly.

Over 100 professional themes

Dropshipping options

Shopify Pros and Cons
| | |
| --- | --- |
| Pros | Cons |
| User-friendly for beginners. | Transaction fees for third-party payment gateways. |
| A rich app store for customizing your store. | Customization may require knowledge of Shopify's coding language. |
| Reliable hosting services. | |
| Extensive payment gateway options | |
| Powerful SEO capabilities. | |

Also read: Which Shopify subscription plan will be best for you?

Webflow: The Design-Centric Choice
Webflow is becoming more and more well-liked as a result of its design control and creative flexibility, which makes it a great option for companies who prioritize design. When it comes to design, Webflow excels. It enables you to design beautiful websites with complex animations and user interfaces. If you desire complete control over the implementation of a particular design that you have in mind.

Pricing
Basic plan: $18/month
CMS plan: 

$29/month

Business plan: 

$49/month
Features

Unmatched creative freedom for designing visually stunning websites.

A platform that allows you to create custom websites without writing code.

The option to export and host your site elsewhere.

Webflow's CMS for data-driven websites.

Complex animations and micro-interactions to enhance user experiences.

Customizable checkout process

Email marketing tools
Webflow Pros and Cons
| | |
| --- | --- |
| Pros | Cons |
| Ideal for those with design expertise. | Not as user-friendly for beginners. |
| No coding is required for website creation. | Limited app store compared to Shopify. |
| Hosting flexibility for advanced users. | May require a learning curve for some users. |
| Dynamic content management system. | |
| Custom interactions and animations. | |

Also read: Shopify vs. Magento: Why we recommend Shopify!
Ease of Use: User-Friendliness Matters
Shopify is celebrated for its user-friendly interface. It boasts an intuitive dashboard, making it accessible to users with varying levels of technical expertise. The platform streamlines the setup process, allowing you to launch your online store swiftly.
Webflow's approach is centered on design freedom. It offers a robust platform for creative individuals who want control over their website's look and feel. However, it may require a steeper learning curve, especially for those new to web design.
Template Design
| | | |
| --- | --- | --- |
| Aspect | Shopify | Webflow |
| Template Customization | Easier for non-designers. | Better for experienced designers. |
| Themes | Offers a range of e-commerce-focused themes. | Provides a variety of templates for different website types, including e-commerce. |
| Design Experience | May require add-ons or coding to achieve specific design goals. | Offers a more hands-on and code-oriented design experience. |
| Flexibility | Limited design flexibility | High design flexibility |
| Theme options | Free and Premium | Free and Premium |
Making the Decision
Choose Shopify If:

You seek a user-friendly platform suitable for users with minimal technical expertise.

An extensive app store with a variety of plugins is essential for your business.

Hosting and security are top priorities.

You need robust SEO capabilities to improve your online visibility.
Choose Webflow If:
You are design-focused and require full creative control over your website.

Avoiding coding entirely is crucial for your project.

Hosting flexibility, including the option to export your site, is appealing

Your website demands dynamic, data-driven content and custom interactions.
Marketing Update
A successful marketing strategy can make all the difference in the fast-paced world of online companies. It's critical to choose an e-commerce platform with strong marketing tools. Webflow and Shopify, two significant competitors in this space, provide unique marketing tools and features.
Shopify: Powering Your Marketing Efforts
Shopify is renowned for its extensive marketing toolkit, designed to empower businesses to reach their target audience and drive sales. Here's a closer look at the marketing features Shopify brings to the table.
SEO Optimization

Social Media Integration

Email Marketing

App Store

Abandoned Cart Recovery
Webflow
Webflow distinguishes itself through its emphasis on design freedom and aesthetics. While its marketing features may not be as extensive as Shopify's, it still provides essential tools for promoting your business.
SEO Tools

Social Media Integration

Content Management

Email Marketing

Analytics
Conclusion

Your unique business demands will determine which of Shopify and Webflow is best for you. Shopify is a great option for people who value functionality and convenience of use over everything else because of its extensive app store and exceptional user-friendliness. However, Webflow excels at design flexibility, serving companies that place a high value on personalization and aesthetics.

The first step in starting an online store is choosing a Shopify that fits your objectives and vision with TametaTech. We specialize in Shopify development. keep in mind that your decision might have a big impact on how well your new business or running a large company.
Stay Ahead of the Industry
We'll keep you updated with latest tips and trends